Building Decoration with LED



Building outside light decoration comes as rope light and wall washers.


Rope lights can mark the contours
of a building or serve as advertising. LEDs are very suitable for rope lights, in fact, nowadays almost all rope light decoration is using LEDs instead of glass neon.

Wall washers are used to illuminate impressive buildings or building details. Most wall washers are using HPS lamps, but because of their long life and low power consumption LED lamps are gradually replacing them.



Decorative lighting with rope lights and wall washers




Rope lights in an advertising sign
LED rope lights have a life time of 100,000 hours, the energy consumption is about 4.5W/m (instead of 29W/m of glass neon tubes). We recommend 24V types, they are easy to install, and save to use.
For advertising there are RGB-versions available which can change the colors.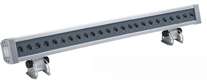 LED wall washers can also be programmed for different colors and effects, giving the lighting designer freedom to realize ideas.




Wall washers are available in different sizes and shapes, depending on the lighting task

.




home