LED Power Spotlights MR16
Illumination of small objects requires a smaller light spread angle. LED Power spotlights serve for this purpose. A lens in front of the light source concentrates the light to the desired spread angle.
These spotlight bulbs employ high-power LEDs. With a standard size of 50 mm diameter (MR16), they fit into standard lamp holders with GU5.3 (for 12V) or GU10 (for 110/230V) sockets, replacing halogen lamps of 10 to 30 Watt. The more powerful 9W spotlight also comes in 63 mm diameter (PAR20) and is suitable for downlights replacing 50W halogens.
LED spotlights do not radiate UV and IR, their heat generation is much lower than halogen lamps. That makes LED spotlights very suitable for cabinets and showcases, e.g. in museums or galleries.
UV or heat sensitive objects like museum expositions, paintings or jewelry will not suffer when illuminated by LED spotlights.
Power Spotlights 1 Watt
for Cabinet, Showcase and Object Illumination
1x1W Power LED
45 Lm (2700K), 70 Lm (6000K)
spread angle: 40º
12V: GU5.3 fitting
110/230V: GU10 fitting
Power Spotlights 4 Watt
for Cabinet, Showcase and Object Illumination
3x1W Power LEDs
100 Lm (2700K), 165 LM (6000K)
spread angle: 40º
12V: GU5.3 fitting
110/230V: GU10 fitting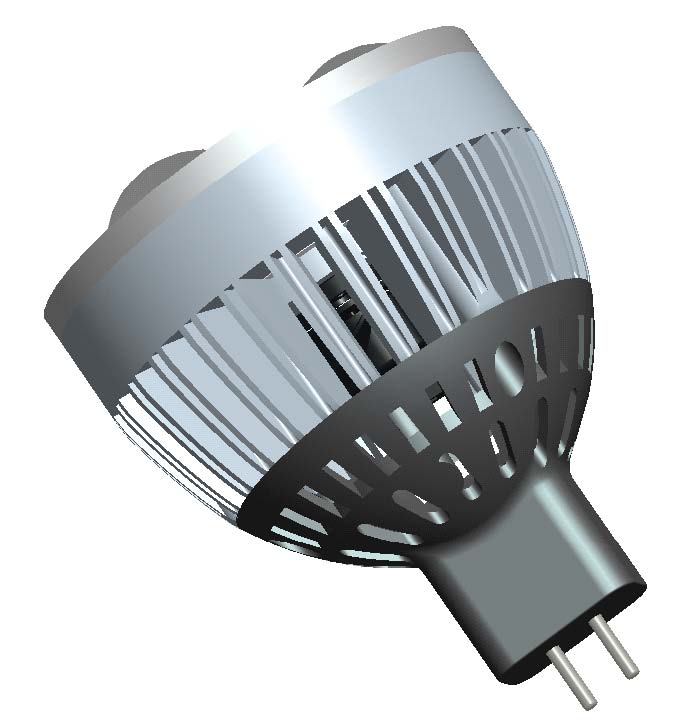 Power Spotlights 9 Watt
for Object Illumination and Downlight
3x3W Power LEDs
350 Lm (2700K), 450 LM (6000K)
spread angle: 40º-60º
12V: GU5.3 fitting