LED Street Light Bulb
This bulb is designed to directly replace High Pressure Mercury (HPM) or Sodium (HPS) or Metal Halide bulbs in a street lamp. it comes in standard size with standard E40 fitting and is available in pure white (5000-7000K) or a warmer white (3000-4000K).
The bulb fully utilizes the advantages of LED lighting

Directional light: The illuminated area is rectangular, there is no light pollution, no glare
No harmful waste: The bulb contains no Mercury or other harmful substances.
No UV radiation, no high voltage which attracts dust, and no high temperature which turns the lamp shades yellow
High life expectancy
Low power consumption






Street Light Bulb
28 Watt
28 LEDs
spread angle: 120º /60º

85..265V, E40 fitting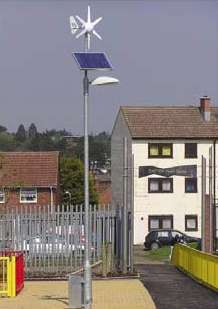 The lamp can be combined with a solar panel to be used in areas without power line.In the picture right a street lamp in UK equipped with the 28W LED bulb powered by combined wind and solar energy.

An LED street lamp in New Zealand.


home